COMPEL
Compel his demons, then himself. OR PERISH TRYING, INSECT!
Ẁ̶̮͙̤̘͓̬͍́͛͂͂͠H̵̼͙̪͍̟͠Ȩ̴͖̙̺̗̘͍͌̄͛̀̾̒̂̇̚͜ͅŃ̷̼̟̮̗̇̅͛͠ ̴̘̣̖͔̈́̐͑̕̕Y̵͉͔̮͒͘O̵̗͠Ù̴͎̖͍͖̣̿͜ ̷̢͇̼̩̤͉̯͇̯̐͗̾S̷̥͉̰͎̙̪̊̋͑̕Ȩ̶̡̞̥͔̲̭̬̖̓̾̏̿̎̅͠Ę̵̦͈̙̹̹̗̗̈́͗͠ͅK̶̹͓͉͎̭͕̊͋̕̕ ̴͉̟͉̊F̶̨̨̛̛̹͈͚̂̈̐̈́̇̅́ͅO̴̢͚̹̭̰̠͔̻̹͌̂͂́̕͝͝͠R̸̢͉̀G̴̡̞͓̗͖̲̈́̈̾̐̐Ĭ̷̡̯̱̫̆̽ͅV̴̢̤͈̯̻͐͂̇̐̚E̷̡̠͈͚̍͜N̸̡̟̬̲͍̠̾̄͛͑̔̎͘͜Ę̴̢̬͕̠̃̐̏͜͝͝S̶̼͂S̷͙̹̭͉͈̭̼̗̖͛̇͗̈͂͠͠, ̴̺͙̪̙́̇͌̀̂Y̶̮̘̞̪̒͂̓́͜O̵̘̪̽̿̓̀̚Ú̴̱͂̽͌̈͌̈́͜ ̴͈̩͚̹̟̖̫̔W̶͕͍̤̻̫̜͗́Ḭ̵̧̘̲̪͍̜̝̕ͅĻ̶̘͚̬̲͔̩͎̐L̷̡̛̰̠̱̫̞̰͖̽́͗̀͊́̀͝ ̴̧͉͆̃̚S̴͕̠͍͍̈́E̶͓͂É̵̫͇̩̹̟̪̈́ ̶͚̪͚̹̤̭͋̃͒̑T̴̢̠͎̫̲̪̠̞̮͛̑H̶̰̞̬̩̠͖̘̊̒̿̔Ë̵̙̘̯̞̻͚́̋̈͆̎͘R̸̜̩̝͈̩̆͆̄͜Ė̶͔̪̗̏̽͛̒͐͂̚ ̸̞͔͔͒́͐̋Ỉ̵̧̘͎͑̾̉̐S̷̡̨̛̼̜͐̔̀̊̒̕͝ͅ ̴̢̢̛̜̫̹̗͖͇͎̑̎̽N̷̼̞͈̘͈̙̉̋̋̄̓̍̅̓̕Ơ̸̢͔̱̠͚̲̯̳͒̆̅͒̋͐̆͝ ̵̠̩̹͎̩̃̎͐͒̄̊͜͝G̶̱͎͈̳̞͐̔̓͋͊͗̃Ȯ̷̠͉̫̩̝͔̀̇̊D̸̪̗̽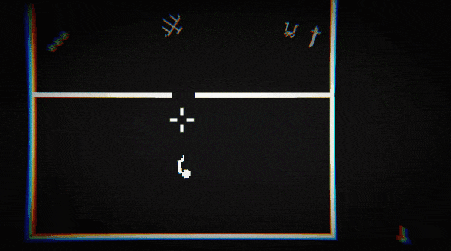 Purchase
In order to download this suffering you must purchase it at or above the minimum price of $1 USD. You will get access to the following files:
Comments
Log in with itch.io to leave a comment.
Certainly can say that I in fact of my own accord without a doubt felt... compelled
personally i think there should be a checkpoint right when you meet the boss because no way in hell am i gonna do all that again.

Hey, thanks for the feedback.

Just added the feature. If you reach the boss room, you will spawn right before it on restart/death, until you defeat him.

Progress isn't saved on the WebGL/browser version between sessions, unlike other platforms.
finally completed the game, its probably one of the simplest roguelikes ever, but for what it is it can entertain and somewhat frustrate for a few minutes, making it a good quick experience.
Can add this to my growing collection of 'Retro style games where you play as a badass exorcist' with the Faith collection. Great game
Thanks for playing, glad you enjoyed it! I am a huge fan of the Faith collection myself, too!
100% compelled, great pain.